Google Ads inbound call tracking basically lets you see the entire list of people, your actual and potential customers, who clicked on one of your PPC ads or clicked to call your business and then further gathered information.
The trick behind such a call tracking is that due to a high demand; it has become economically affordable to a huge range of business types. Back in the day, call tracking alone was used by large companies only; but this was also because at that time, customers didn't prefer calling the company as much as they prefer it now. Customers now want all the information in exchange of a single click and that is why pay-per-click ads are being demanded now more than ever.
Inbound call tracking is now the basis to build a stronger customer base. How? Because it is the key to understand your customers and what they expect from your product or service. Google Ads call tracking keeps all the clicks distinct through the call extension program, which makes Google Ads different from those ads that used to put the customers under frustration by displaying non-clickable numbers instead of simply directing the call to the company.
Why You Should Use Inbound Call Tracking with Google Ads
It was hard imagine how can a single phone number be directed to the company without any complication. To avoid such a situation, Google AdWords uses the call extension program.
 This extension program was basically designed to keep the mess away; when your customer will click on the number that is displayed on your PPC ad via a call extension, the phone number will directly appear on your customer's dial pad from where they'll make the call normally. A unique number will be swapped with each call extension created, which will then be directed to the company's phone number.
Keeping the number unique will keep the keywords, location and other elements distinct. This distinction is good for your business because it will help you know more about what sort of customers you are dealing with.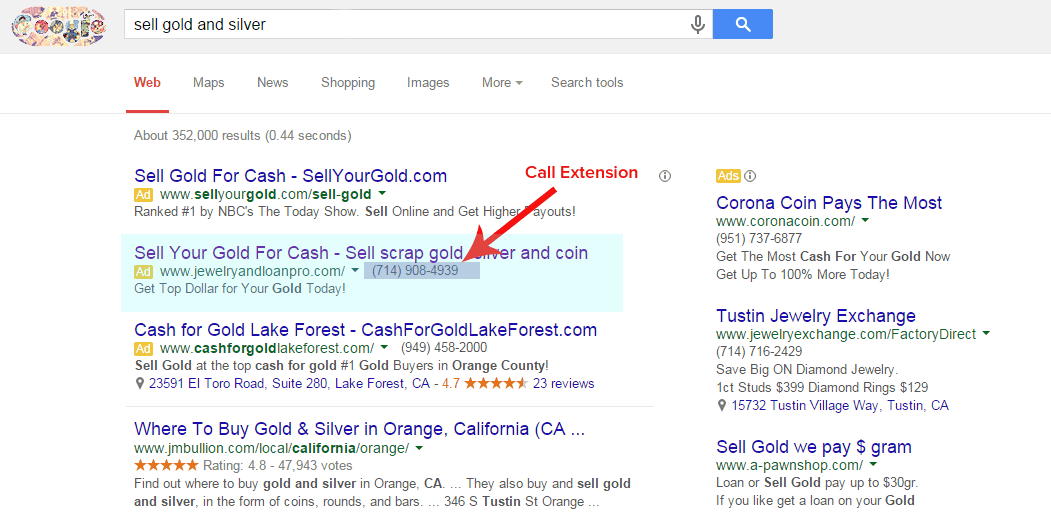 Google Ads call tracking will not only tell you how many clicks your PPC ad received but it will also notify you where the click come from, the geolocation of the click, what device was the call made from, duration of the call which will also tell whether the call ended up in a conversation or not and other similar elements. This will help you in figuring out where your campaign ad is making the most business. You will then get a clear lead about your future strategies for your campaign ads and marketing improvements.
Keywords also come along with each call received distinctly due to the unique numbers swapped. With this information, you will know which keywords are driving the calls and as you will make improvements according to this information, you will also be maximizing your ROI by making a greater profit.
Future Benefits of Inbound Call Tracking for Your Business
Measuring return on investment of offline conversions will also become just as easy as it with the online conversions; hence you'll be able to clearly and properly measure your entire paid search return on investment.
You will be able to manage your calls, driven by your PPC ad, more easily. Google Ads call tracking will extract out all the pieces of information it promises to generate for your business, making all steps of call tracking super easy for you and the future marketing strategies and campaigns you'll be creating.
You will get specific lists of keywords through which you'll be able to track calls and also the campaign that the calls were driven from. It will become easier for your company since you will already have a list of specific keywords that you will be focusing on for your future campaign PPC ads.
How to Set Up Google Ads Call Tracking For Your Business
For the basics, you need to know that you will have to add call extensions to each of your campaign ads and then enable the call reporting option. Now, to get into the details of this setup, you can follow the instructions given below,
You will see an option of Tools on your AdWords dashboard, select that option and go to the conversions.


You will be given a choice to select the type of phone call you want to track through the Google Ads call tracking. There are a total of three types of phone calls:
The first type is suitable for call-only campaigns in which a phone number will be displayed in your Google Ads ad. However, google forwarding numbers will be required to properly set up the call extension or your call-only campaign.

The second type of calls are the ones that will be made through a phone number that is on your website. A tracking code will be required to track the call back to your website.

The third type is very similar to the first type, the difference is that instead of displaying a phone number on your campaign ad, a 'call now' button will be available which will direct the call to the phone number on your mobile site with the help of a tag available on your mobile site.

You will then be required to specify the type of conversion that you are willing to go for in order to receive successful phone calls. You will be required to specify the name of your conversion, monetary value of your conversion, the length of the call for it to be considered a conversion, what way you want your conversions to be counted back to your website, how long you would want to wait to track the conversion after a click and the type or category of the call it will be.

You will then be further required to specify the requirements that are listed above in the text, depending on what type of phone call you have chosen for your campaign's call extension.

Lastly, you will be required to see how easily your calls will be tracked and information will be extracted out for your business. Everything will be made available right on your fingertips.